Alonnisos
Arriving by Flying Dolphin from Volos or Ayios Konstantinos, Alonnisos has a feeling of the end of the line, a feeling enhanced by its relatively small population and large areas of empty forest.
Only the southern third has been built on to any extent, and surrounded by marine park, Alonnisos is fairly immune to further encroachment by the tide of mass tourism. So if you choose this island, you have scope for a lot of uninterrupted walking.
Firstly the question of the name, including "how many 'n's and 's's? I've based my spelling Alonnisos on the Greek spelling Αλοννεσος, as seen on the Topos map. The Diamanti Sampson guide book published in the 1970s spells it Halonesos, its ancient name was Ikos and Chelidromi, Cheliodromia or Liadromia have been mentioned too, deriving from Achilliodromia "Achilles' Roads". Halonesos was the name established by the Greek state in 1836, transferring the name from the next one up in the chain, now Kyra Panaghia.
With a hilltop Chorio and nearby port, Alonnisos differs from its neighbours, but shares its layout with many of the Cyclades and Dodecanese. The Chorio (Old Town) was destroyed by earthquakes in 1965 and for two decades the port of Patitiri was built in modern style. Patitiri is named after the wine presses that were based there, disused after the virus that destroyed the vines in the 1950s.
More recently, the ruins of Chorio have been reclaimed and now it feels like a village again, albeit largely populated by expatriot holiday homes. Around Patitiri is a scattering of small holiday venues and next to it the second harbour of Votsi Botsi.(possibly from βοτσαλια, pebbles) 10Km up the coast is Steni Vala (Στενη Βαλα) then the fishing and boat-building hamlet of Kalamakia (Καλαμακια) and, apart from the tiny hamlets of Dhiaselo (Διασελο), Meradhi (Μεραδι) and Vdhoneri (Βδονερι), a few scattered country villas and farms, that's about it.
Although there is much less groundwater than on Skopelos, the island is far from parched and on your walks you will find some moist little valleys and farmed areas tucked in between the hills. The combination of farming activity, promotion by EU-aided projects and use by residents and visitors means that the paths are opening up again. Since my first visit around 1986, paths have been waymarked, tracks have become dirt roads, and dirt roads made up to tarmac, not as bad as it sounds as the roads are little used apart from high season, and at least taxis should be willing to rescue you from the north end of the island now it's tarmac all the way.
So Alonnisos is a chain of wooded hills running 20Km south west to north east, varying between 350 and 450m with the two main summits Kouvouli (Κουβουλι) 475m and Geladhias (Γελαδιας) 456m, largely unpopulated, but farmed and grazed. Its natural delights are chapels, coves, islets, views and limestone crags, friendly and willing locals, open to moderate tourism, but opposed to over-exploitation, strongly reinforced by the marine conservation park which surrounds it. With its pine clad slopes, and plentiful water sources, it's a reasonable prospect even for high-season island walkers, when the ferries, tavernas, rooms and day boats will all be providing a full service.
Getting to Alonnisos
From Athens airport, you take a bus to the Liossion Street bus station, from which you catch a Lamia-bound bus to Ayios Konstantinos, the port for the Sporades.

Flying Dolphins and Flying Cats make a least two trips a day to the 3 islands, 3½ hours to Alonissos.

The fast ferries also travel from Volos, 5hours, which is further from Athens.

A faster option is the internal flight from Athens to Skiathos, taking about 40 minutes, then it's about 2 hours by fast ferry.

Car ferries also visit from Volos and there is a service from Thessalonika, the Cyclades and Crete.

In the summer, international charter flights land at Skiathos and the fast ferries link on to Skyros (1 hr 20) and Kymi (4hours).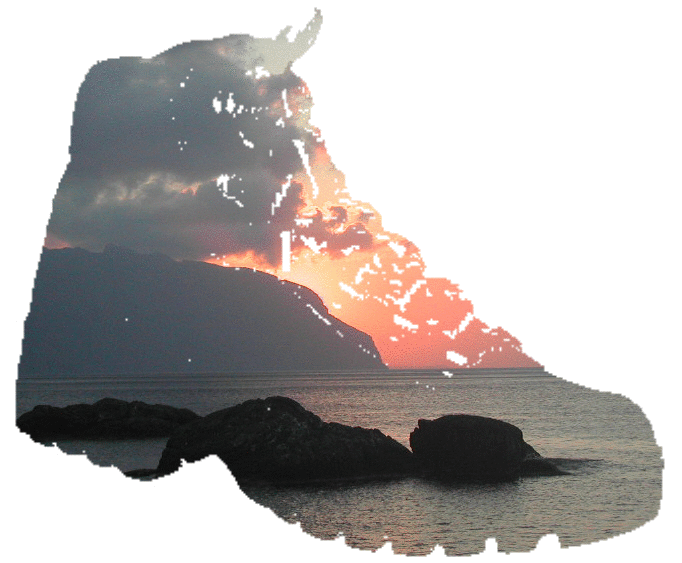 Getting around Alonnisos
All year round, Skiathos, Skopelos (both ports) and Alonnisos, are interconnected by the same ferries that link them to Evia and the mainland , and are connected by a comprehensive day boat system in the summer, serving popular bays and beaches, and giving opportunities to visit the islets around them.

The day boats are particularly important on Alonnisos, as there are few buses and apart from the southern end and the spine road, the roads are unpaved and can be tortuous.

Day boats link the beaches close to Patitiri well so, for example, a walk to Megalo Mourtias can end with lunch at the taverna, a swim, and a boat back.

Boats also run up the coast to Steni Vala, and beyond up to Ayios Dimitrios.

Full day cruises are offered to Peristera, Skantzoura, and through the Marine Ecological Park up the chain of islets, to Kyra Panayia, Yioura, Piperi and Psathoura.

There are taxis and car, motor bike, and cycle hire, and the old town is well connected with the port.
Staying on Alonnisos
For such an unspoilt island, there is a reasonable choice of accommodation, though we wouldn't recommend arriving in mid August without pre-booking.
The simplest choice is to stay in Patitiri, where there are hotels, rooms, shops, tavernas and bars. Above the port, the old town also offers some rooms and eateries.
There is seasonal accommodation at Votsi and a small amount at the beaches and coves around the southern end, including Megalo Mourtias and Marpounda, where there is a water sports centre.
There's a campsite between Patitiri and Marpounda, elsewhere camping is strongly discouraged because of the pine woods.
So far, we've concentrated on the southern end of the island, yet there is much to see outside this area, so you might consider staying at Steni Vala, which now has plenty of rooms, some shopping and a choice of places to eat. Isolated villas are spreading north through the countryside and some may be rentable. In addition, in 2007, some EU funded accommodation was being built on the spine near Geladias. You're unlikely to find anywhere to stay north of here though, and the fishing and boat-building hamlet of Kalamakia (Καλαμακια), the shepherds' hamlets of Dhiaselo (Διασελο), Meradhi (Μεραδι) and Vdhoneri (Βδονερι) and even the tantalizing harbour of Gerakas have no tourist accommodation to offer at present.
Maps and other information
We recommend the Anavasi Topos map, at 1:25,000 ISBN 960-8195-28-4, and the Skai Terrain Map 321at the same scale for walking.
Also there is a privately published map in 6 languages, produced as a labour of love through the 80s by Hans Jorg Rothenburger, a Swiss watchmaker I understand. A remarkable achievement. It may still be available from the cartographer or from Ikos travel.
And don't forget Google Earth gives you a satellite view, which is fascinating.
There's a number of guidebooks, including an illustrated guide, The Alonnisos Guide, Bente Keller & Elias Tsoukanas, privately published ISBN 960-91365-3-2
Diamanti Sampson wrote Halonnesos Deserted Islands, published by the Northern Sporades Newspapers in the mid 1980s, probably out of print now.
Also worth reading if you're visiting any of the Northern Sporades is Gates of the Wind, Michael Carroll, pub P Efstathiadis, Athens 1965, and reprinted recently. ISBN: 960-8480-45-0. The chapter on Steni Vala is particularly enjoyable; if you visit there you can see Kostas Mavrikes' memorial and meet the descendents of some of the characters mentioned in the 60s.
Some websites which include general tourist information for Alonnisos: