Skiathos
Skiathos is definitely a tourist island. About 9 Km by 5Km, rising to 433m, it's of modest proportions, but its proximity to the mainland, plentiful water, international airport and highly rated beaches have led to considerable, some would say excessive, development over the last few decades.
Skiathos has
A winter population of about 5000 rising to maybe 150,000 in the summer, and large air-conditioned coaches, rare on Skopelos and unknown on Alonnisos and Skyros are very much in evidence here. If you're an island walker though, all is not doom and gloom and Skiathos, like all islands, has its hidden treasures and uncovering them is what Walking the Islands…is all about!

Away from the "World Famous holiday beaches" you'll find:

rolling hills, river valleys, and woods, with springs, villages, chapels and the occasional monastery

a well-made road network with good bus services

a charming green farmed hinterland but with scattered villas far and wide

views across the sea in all directions, especially to the much higher land on Pilion and Evia

unrivalled views of Skopelos with Alonnisos behind and the chain of uninhabited distant islets
Getting to Skiathos
Skiathos is very accessible especially in the summer when international charter flights use the airport, and all year round there are internal flights from Athens, only 40 minutes away. From Athens airport take the bus to Ayios Konstantinos, for twice daily fast ferries taking 1½ hours. There are daily ferries from Volos and an occasional ferry service from Thessalonika, the Cyclades and Crete.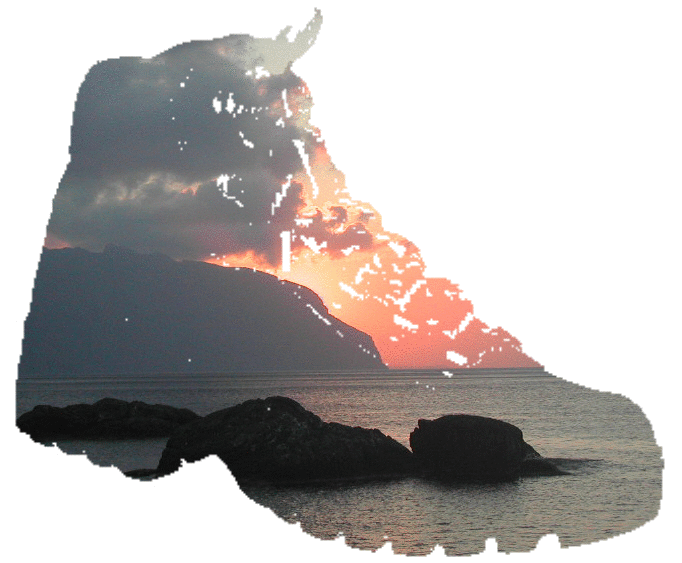 Staying on Skiathos
In a word, it's easy! Arriving at the airport or harbour, you'll almost certainly be greeted by agents with offers of rooms. In the holiday areas, there are hotels, apartments, luxury and basic rooms and at least two camp sites, one near the airport, the other at Megalos Aselinos on the north coast. All year round you should be able to buy package deals on the island.
Getting around Skiathos
Skiathos has a permanent bus service running along the south coast and a summer service from the port to the Evangelistra monastery. There are also freely available taxis and vehicles for hire, and an extensive asphalted road network. Walking is far from unheard of and there are two sets of waymarks, older and newer, marking the walks we describe.
Maps and other information
We recommend the Anavasi Topos map, at 1:25,000 , ISBN 960-8195-20-9 for walking, the Skai Terrain map, also at 1:25,000, and Orama map 347 ISBN 978-960-448-029-6
There's a number of guidebooks, available in shops on the island, including Ortwin Widmann's very detailed one. Also worth reading if you're visiting any of the Northern Sporades is Gates of the Wind, Michael Carroll, pub P Efstathiadis, Athens 1983.
Some websites which include general tourist information for Skiathos: