Halki
Halki is a jagged limestone rock, roughly rectangular in plan, measuring 7 by 3 Km, with just one settlement and no natural water, well off the regular tourist map.
In common with Symi, the decline in sponge-fishing led to a decline in the permanent population to around three hundred today. But since its UNESCO designation as a centre for peace followed by moderate development of tourism, there's enough between it and its neighbour Alimia for a week or two of walking, swimming and relaxing.
Halki has
a picturesque harbour with restored neo-Classical villas. churches with picture-book campaniles, a few hidden mountain chapels and a small remote monastery

a fairy-tale crusader castle and ruined Chorio on a steep crag

classical architectural fragments awaiting discovery

colourful spring & autumn flowers

one minibus, one taxi and just one short road
The rocky scramble up to one of the 600m summits within 2Km of the harbour for an aerial view of castle, Emporio, islets and distant views of Rhodes, Turkey and other members of the archipelago, is a high point, literally and metaphorically.
Getting to Halki
Although there is one ferry per week linking Athens (Piraeus) with Halki, it's much quicker to choose a flight to Rhodes, then get to Kamiros Skala to the south of Rhodes town, for the mid-afternoon small ferry which takes 1½ hours to cross to Halki.
Some days, car ferries call in en route between major islands, including Rhodes main harbour, Kassos Karpathos and Crete
There are a few summer hydrofoils and fast ferries linking Halki with Rhodes, Tilos, Nisyros, Kos, Kalymnos.
Some web links for Dodecanese ferries:
www.greek-islands-ferries.gr/ferry_halki.htm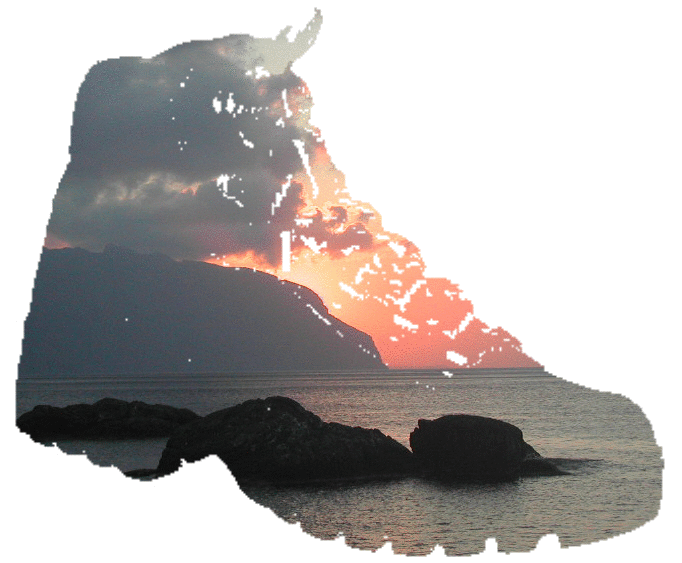 Staying on Halki
All accommodation is in Emborio, more in the form of apartments and studios in restored houses than the more usual rooms, so it's best to book ahead especially at Easter and over the high season weeks around the 15th August.
Getting around Halki
A minibus started in 2007 and may be helpful for the longer walks, just ask around. There's a taxi too and a water taxi, so it's possible to make arrangements for a lift to or from a distant point, if you have a particular need.
Dayboats are available in summer to bays and beaches, to Tilos, and to nearby uninhabited Alimia, a short walk on which is described in Halki walk 11u.
Maps and other information
Anavasi Topos map 10.33 ISBN 978-960-91369-3-5 covers Halki in detail at 1:20,000 and gives descriptions of key points on the walks
The 1:100,000 Rhodes map (ROAD Editions ISBN 978-960-8481-14-5 extends to Halki and is useful as a general guide and to help identifying views.
The Greek National Tourist Organisation, 4 Conduit St, London W1R 0DJ, 0107 7345997
Halki Tours (Lefteris Lathourakis) 22460 45281 fax 45219
Zifos Travel 22460 45082 mobile 69440376176 email zifos-travel@rho.forthnet.gr