Fourni
Fourni lies close to Samos and Ikaria. As its plural name Φουρνοι ('ovens') implies, it's a little archipelago with islets and an inhabited partner, Thymaina Θημαινα, almost as high, which lies close to the west.
Sustained by regular hydrofoil links and a good water supply, its population of 1600 or so swells appreciably in the summer. But it hasn't yet been over-run by tourism and it has much to offer island walkers. The sea is rarely out of sight and islets, bays and coasts, near and far, are always in view. But from the harbour you can hardly see any sea horizon at all: it's all hemmed in more like a lake than sea.
Fourni has
craggy but fertile hills and islets

a range of settlements served by summer day boats, including nearby islets

a walkable serpentine ridge, with views down to coves, out to islets and to more distant islands

an acropolis site with, in my opinion, one of the best views in the Aegean, unfortunately marred by an illuminated Easter sign

scattered chapels, churches, monasteries and shrines
Getting to Fourni
Fourni has its closest travel links with Ikaria and Samos, with daily small ferries and hydrofoils taking around 1¼ hours, and both of its larger neighbours have internal flights connecting with Athens.

From abroad, it's best reached from Kos (charter flights), via Kalymnos.

Hydrofoils from Kalymnos take a little over an hour, from Kos a little under 2 hours.

Daily ferries also connect with Patmos (1 hour) and Leros (a little over 1 hour).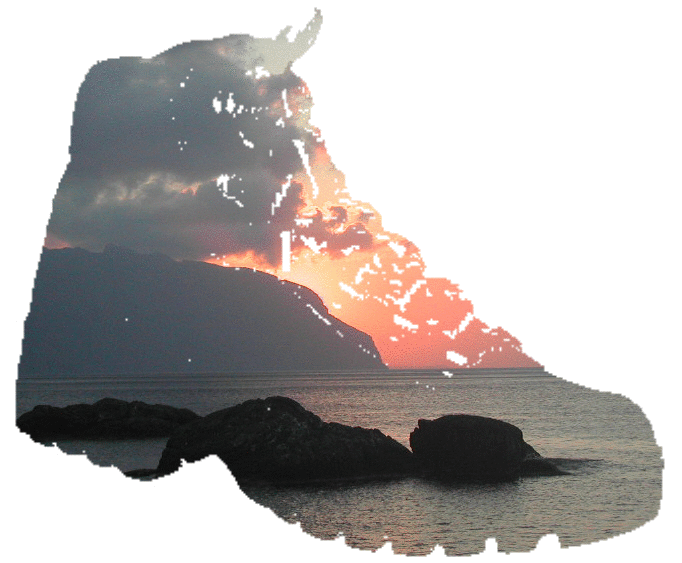 Accommodation and Getting Around Fourni
Accommodation in the port is reasonable out of season and there are a few out of town options, including one or two beach tavernas at Chrysomilia and the odd small campsite.

Day boats are still the main means of travelling along the island, but road connections are just developing now the spine road has been surfaced: a beach minibus may make some trips, and the odd taxi covers the most important routes (remember it's only 8 Km long in any case).

It may be possible to hire some transport if you feel the need, but all walks can be done from the port.

There's a choice of tavernas, bars and cafes in the main town, and the odd seasonal cantina on some beaches.

There's a wide range of beaches to choose from, served by kaique in the summer