Evia
We are including Evia on the site for three reasons:
great walking in two major mountain ranges

accessibility and reasonable facilities and transport

a familiar outline from the Sporades and northern Cyclades
After Crete, Evia is the second largest and second highest of all the Greek islands, but as it is attached by bridge to the mainland, it's unlike those ferry dependent islands far out in the Aegean. Its nearest point and capital, Chalkis or Chalkida, is within an hour's drive from Athens and even the most remote mountain villages in central/northern Evia can be reached in about two. For this reason, the southern shores, facing the mainland, are popular holiday destinations, particularly for Athenians, but less well-known internationally. The mountain ranges also have a cult following for hiking, biking and winter sports, but it's more of a locals' island.
Getting to Evia
Evia is very easily reached from Athens via the road bridges to Chalkida or by one of the seven short ferry crossings from points on the mainland between Rafina, only 10Km from Athens airport in the south and Glypha, near Lamia in the north. Evia is also reachable from Aghia Konstantinos and Skiathos in the summer, and from Skyros via Kymi all year round. Regional buses and trains connect Chalkida to Athens, Patras and Thessaloniki.
Getting around Evia
There's a good road network although its 175Km length mean a long journey from end to end. More remote areas, especially on the "outer" (north east) coast are served by unsurfaced roads which can be especially difficult in and after extreme weather. There are some regional long distance buses connecting Chlakida with the Karystos, Kymi, and Istaea regions, but for local connections and access to the routes we describe a hire car or taxi might be best.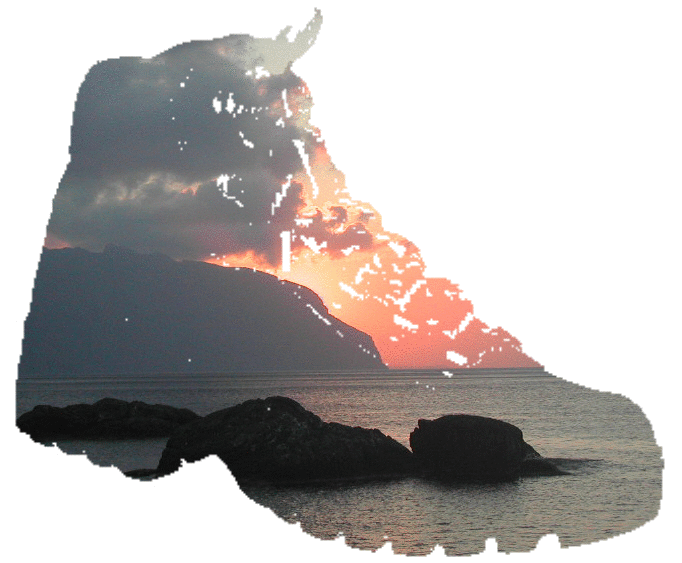 Staying on Evia
To explore Dirfis, you can stay in one of the hotels or rooms in Steni which nestles under the mountain on the inland side or Stropones or Lamari on the seaward side, or right down by the sea at Xiliadhou, where there are camping possibilities. When open, the EOS Refuge Michaelis Nikolaos on Dirfis itself is operated by the Greek Mountaineering Club €15 for dorm beds (34), or camping nearby. Call 22210-25230 to book.
For Ochi, there's a choice of hotels and rooms in Karistos (see www.southevia.gr) and possibly a few rooms in the villages to the north of the town. There is a refuge just below the summit, accessible by track (4 wheel drive or motorbike) and bookable from www.southevia.gr.
Maps and other information
For the Dirfis area, there's a 1:25,000 map from Anavasi, map 5.11 published in 2009, ISBN: 978-960-8195-394.

For Ochi, there's a pair of less detailed Anavasi Topos maps (1:100,000) with a 1:50,000 enlargement of the Ochi area too. "Southern Evia with Karistia, Mount Ochi" ISBN: 978-960-8195-738, 2009.

Detailed information on Dirfis on Mountainsgreece.

George Sfikas: The Mountains of Greece , Efstathidis Group, Athens, 1999 includes sections on Dirfis, Xirovouni, Piaxarias, Kandili and Ochi ISBN 960-226-067X

Marc Dubin: Greece on Foot , Cordee, Leicester, 1986, includes a section on Dirfis, ISBN 0-904405-33-8

Musical Lodge Hotel in Steni and has a website with information about the area.

South Evia Tourist Office has information about Mt Ochi

Marmari Bay Hotel website also has information about Mt Ochi

Mountainsgreece also has information about Mt Ochi

Vassiliki Vlami: The Region of Ochi, GNTO, Prefecture of Evia, Oikos Nature Management Ltd 2006, ISBN 978-960-86684-3-0