Skopelos
Skopelos is the largest, the central and the highest of the three core Northern Sporades and its green slopes have much to offer island walkers.
Skopelos has
About 20Km by 8Km, its permanent population of about 5000 swells in summer of course, but to a much lesser extent than on its neighbour, Skiathos, whose sandy beaches and international airport have had the inevitable effect.
Relatively moist and fertile, its valleys and lower slopes are farmed whereas much of the higher ground is either grazed or wooded, and it is sometimes claimed as "the greenest island of all". Here you'll find Aleppo Pines, Mastic trees, Strawberry Trees, Olives, Almonds, Walnuts, Plums, Holm Oaks and Chestnut, as well as the ubiquitous spiky shrubs.
There's a range of accommodation centres and transport options, giving scope for linear walks, and a number of special treats such as cool shady springs tucked in deep valleys, or hidden stone-roofed Byzantine chapels. The island is reputed to have more than three hundred churches, and the line of chapels climbing the seaward edge of town from the harbour to the vestigial Castro should be a World Heritage View and I'll bet many a roll of film has been spent there. Long wooded promontories and deep sheltered bays add to the pleasure.
If it has a downside, it's that the fertility means that paths can become overgrown. Although there has been some waymarking and publicity for some walks in the form of a guide book started by Sotos and continued by Heather Parsons , there is room for improvement of some of the paths.
The enormous harbour, unusually north facing, and therefore vulnerable to interruptions in its use during storms, is enhanced by the amphitheatre-like red-roofed houses stepping up the hillside and the intriguing and enticing monastery-studded hillside opposite, tempting you to sample the secrets of Palouki, which can be discovered through our first walk.
Getting to Skopelos
Unusually for a small island, Skopelos has two main ports, Skopelos town, the capital, and Glossa at the north, much closer to Skiathos and the mainland, and therefore 40minutes shjorter on the ferry.
From Athens airport take the bus to Ayios Konstantinos, for twice daily fast ferries taking 2½ hours. There are daily ferries from Volos and an occasional ferry service from Thessalonika, the Cyclades and Crete.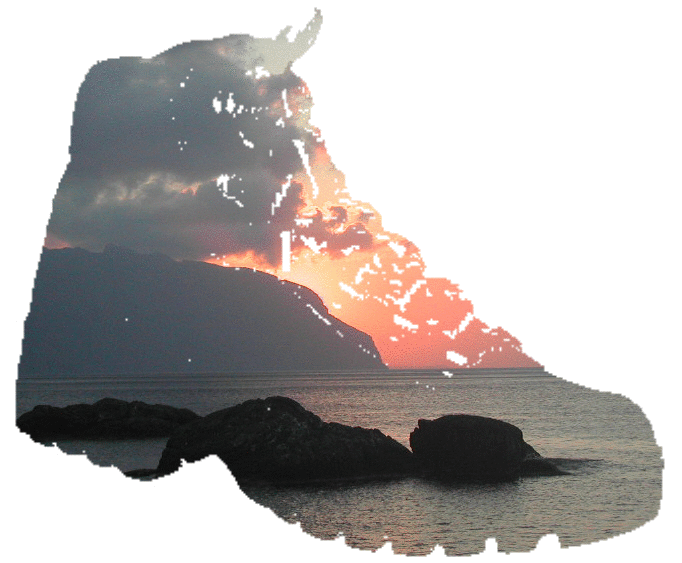 Staying on Skopelos
You have a wide range of accommodation choices on Skopelos, from comfortable hotels and rooms, mainly in Chora and Glossa, but also in the smaller towns and villages, such as Loutraki, Klima, Agnondas, Panormos and there are a few out of town villas in the high central areas.
There's freelance beach camping at Velanio and Panormos
Getting around Skopelos
With a port at each end, transport links are good, and it's easy to explore the whole of the island using bus and taxi, hire car or even bicycle.

Two main roads run along its length, from Glossa to the Chora, and minor roads take you up into the hills at each end and into the high central ground, where there's a number of relatively isolated hamlets.

Beaches are accessible too, and all but the most secluded have facilities of one sort or other.

With such a comprehensive land transport network, and the vagaries of a north facing main harbour, intra-island links by sea are relatively few, though there are day boat trips on offer to the other Sporades and to the uninhabited islands nearby.
Maps and other information
Terrain map 320, at 1:25,000, ISBN 978-960945609-8, published in 2015, shows five signposted trails and includes brief descriptions on the reverse. Anavasi Topos map, at 1:25,000 ISBN 960-8195-22-5 was published in 2005. Both maps are GPS compatible and very detailed.
And don't forget Google Earth gives you a satellite view, which is fascinating.
There's a range of guidebooks, including an illustrated walking guide, with much additional information and anecdotes:
Skopelos Trails, Heather Parsons, 2004, ISBN 960-91561-0-X
Diamanti Sampson wrote Scopelos Glossa, published by the Northern Sporades Newspapers in the mid 1980s, probably out of print now.
Also worth reading if you're visiting any of the Northern Sporades is Gates of the Wind, Michael Carroll, pub P Efstathiadis, Athens 1983.
Some websites for Skopelos: