Kalymnos
Kalymnos is the commercial capital of the Dodecanese, and its second city after Rhodes. Sponge fishing, boat building, fishing, fish-farming, agriculture and maintaining the local ferry network sustain its economy as much as tourism which includes a well established rock climbing tradition.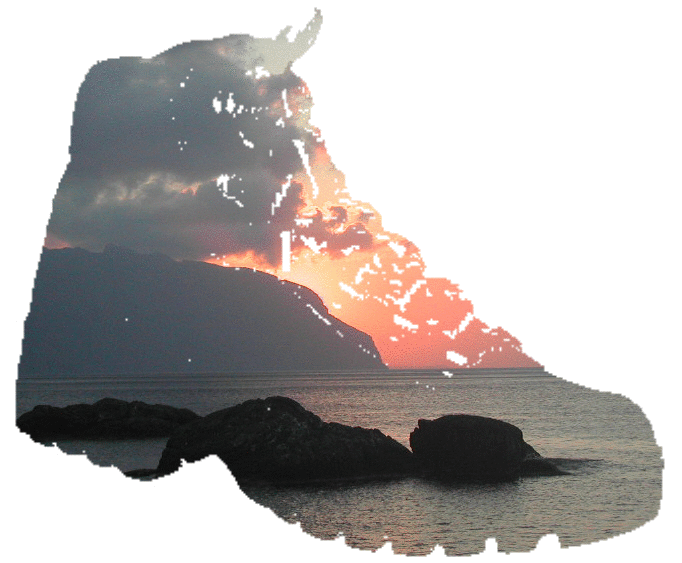 Kalymnos is frequented by Greek holiday makers as much as by expatriots and an all-year round population of almost 17,000 sustains itself and smaller neighbouring islands, Telendos, Pserimos and Farmakonisi. There's more groundwater than on other Dodecanese, with a number of running springs, one particularly fertile farmed valley and a number of juniper woods. It's about 20 by 15 Km, 110 Km2 in area
Kalymnos has
plenty of wild hillsides and coastline, well established paved walkers paths and waymarked climbers' access paths

exposed cliffs and crags in a gnarled and fissured state and impressive rock scenery

a wealth of antiquities; Neolithic, Minoan, Classical, Roman/early Christian, Crusader, Byzantine, Ottoman and Venetian remains all over the island

two fine cliff top castles, numerous smaller forts and look-outs

chapels with frescoes, mosaics and carvings, Byzantine churches, functioning monasteries and modern shrines

a wide range of wild flowers and notable fauna including nesting sites of Eleanora's Falcon
Staying on Kalymnos
There is a wide range of options, from luxury hotels, apartments and villas to simpler village rooms but no campsite. The main tourist accommodation centre is the Panormos region on the west coast, including Telendos islet. There are also places to stay in Pothia, Chora, Emborio and Vlichadia. Visitors to Kalymnos also benefit from the entire range of bathing places, from a (lapsed) thermal spa, through serviced sandy beaches and sheltered bays to wilder deserted rocky coves and sea cliffs, plus a number of hotel pools with public access.
Getting around Kalymnos
A tarmac road network serves most parts of the island, and buses, taxis, and hire cars are readily available. Taxis can just be flagged down, and shared if already in use, phoned of course or found at the main taxi square in Pothia near the Archaeological Museum.
Buses link all the main villages: you should buy bus tickets before you get on the bus: there is a kiosk at the main bus terminus in Pothia, and around the island, most stops have a shop or booth nearby displaying "(bus) tickets here" signs. Bus stops have timetables displayed and our experience is that, in summer at least, there are more rather than fewer buses than expected.
The Elies square in Panormos is like a second bus station and you get two chances to board most buses here, as buses in both directions go down to Kantouni Beach and back. Telendos is connected to Myrties by a half hourly taxi boat service and there are also boat connections from here to Emborio and Leros.
Small boats connect Pothia with Pserimos, Vathy and Vlichadia and excursion trips are available in the summer from Pothia and Myrties harbours. At Vathy a taxi boat is available for custom or off-the-peg trips. It's sometimes possible to visit the nearby uninhabited islets, or to take a day trip to Turkey, Leros, Kos etc.
Maps and other information
Kalymnos has an official website: http://www.kalymnosinfo.com/
Terrain map 337 at 1:25,000, GPS compatible, was published in 2015 and shows 13 hiking routes, with brief descriptions in Greek and English on the reverse.ISBN 978-960684590-1.
Anavasi Topo Islands, 1:25,000 (2007), topographical large scale map, with GPS compatible grid and 3D image on reverse with walking routes, illustrations, some tourist information in Greek and English
Getting to Kalymnos
Kalymnos is well served by ferries and is in effect a main shipping hub for the eastern Aegean, and its nearest international airports are Kos and Rhodes. There are always several boats a day from Kos. Fast overnight ferries (Blue Star) connect with Piraeus, via Astipalaia (3 hours) and the Cyclades at least twice a week, taking 10 hours or so. The Cretan LANE line also connects with Chios, Limnos, Thessaloniki or Alexandropoli (8 hours) and south to Halki, Karpathos and Crete after an overnight halt at Rhodes. GA Ferries call on the Rhodes-Piraeus route too. Catamarans and hydrofoils connect frequently with Leros, Lipsi, Patmos, Fourni, Samos, Ikaria, Astipalaia, Kos, Symi and Rhodes (3-5 hours). The local ANE line based in Kalymnos operates a one-boat service up and down the chain, including the smaller islands Agathonisi, Fourni, Arki and Lipsi on its route between Samos and Astipalaia. The other local ANEM line provides several daily connections to Mastichari on Kos, 1 hour, providing the shortest international connection via Kos airport, and to Pserimos.
The hilltop airport at Argos hosts just one or two Olympic flights a day, to Athens, occasionally to Rhodes and Crete:
Web links for Dodecanese ferries include:
Greek Travel Pages, Hellenic Seaways, Diavlos Hydrofoils, and Blue Star Ferries